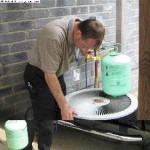 This seems to be a forgotten item on most of the customers to-do lists that I have visited this year and in years past.
I strongly encourage you to have your HVAC system tune-ups put back on your to-do lists and work this into your budget this year and the years to come.
Having a yearly tune-up, preventive maintenance, or check-up on your HVAC system is more important than you think and can actually save you a lot of money, system downtime, and costly repairs in the future.
If you are NOT having your A/C and heating system checked and are one of those people who forget about their systems until they break you are doing yourself a disservice and actually are guaranteed to have a larger service bill and longer down time of your system then those who do have their systems checked at least once a year.
I am speaking from experience and find that those customers who call in a service call during the real hot or cold months of the year and have not had their system checked in years not only have larger bills at the end of the day but in some cases have a longer wait to get a service technician to come out. They may also may have to wait a day or more for a part to be ordered and picked up on the next business day that a supply house to open. Not only this, but not being aware of a failing smaller part can do damage to more expensive vital parts that can cause you huge service bill for the repair or worse have to replace a piece of expensive equipment .
I know what you are thinking and can agree that some do not see the point of having their systems checked since a majority of the time a technician does not find and problems with your system on his one or in some cases two visits to perform his check-up of your HVAC system. I know after each of those visits your thinking to yourselves that you are paying just to have a technician to tell you everything is OK with your system and nothing is wrong at this visit.
I agree that you may feel that way but the technician is doing more then that while he is there. He is making sure you are reminded of needed filter changes, making sure your drains are clear, coils are clean, checking all parts for proper function, oiling moving parts, checking for any anomalies in your total system functions and most of all, giving you peace of mind that your system is getting the care it needs so it can give long term comfort for you and your family.
He may not find anything wrong when he is there but he is performing a much needed service and doing more than fixing your system. He is keeping it maintained and just that one time may find a part that may be going bad and give you a chance to change it before it goes out when its midnight and 90 degrees outside. This part can be changed while he is there for a smaller cost than an emergency call and keep you from having to wait on a technician or longer for a part in a late evening or weekend service call.
This alone is a great service to provide our customers and we do it proudly but there are more advantages to having these check-ups pre-paid and scheduled ahead of time.
We offer our customers Planned Preventive Maintenance agreements which include two or more checkups a year at once low cost that also provide not only tune-ups but discounts on parts and preferential treatment that will get you to the top of the lists during busy months in the event you do have an emergency arise.
So give us a call and get your system checked and ask our technician for more information on our great Planned Maintenance agreements.