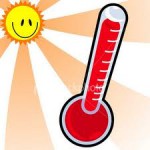 OK it's getting warm again and the hot Texas weather is just around the corner so that means your air conditioner is going to be needed once again.
First off make sure your filter is changed, check your thermostat batteries, make sure you go outside and rinse off your condenser coils with a water hose, make sure the breaker is back ON above your outdoor unit after you clean it , and then go switch ON your thermostat to "Cool" and "Auto" Mode and let it run about 15 minutes.
After it has been running fifteen minutes , then put your hand near a vent you can reach and see if it feels cool or cold and also go outside to make sure your unit kicked on. If the outdoor unit is not running check the breaker above the outdoor unit plus the breaker in your main electric panel.
If your system is not cooling to your liking or something doesn't seem to be running correctly, making noises, or if there is water building up in your drain pan or your air filter is wet, SHUT IT OFF and call Climate Experts NOW to come fix your system and get it running properly. This is important, after you have run your system 24 hrs or more; check your emergency drain pan or around your air filter, and if its wet, or you see water dripping out of your condensate lines, you need your drains blown out to unclog them .
Also, if there is any ice build up on your copper freon lines going inside your indoor coil or outside near your outdoor unit, this is not normal and you need to shut your system OFF and call a professional .
SO the important thing here is to make sure you check your system two or three times the first week it's running full time and if you see any of these issues I mentioned, please DO NOT run it and put off calling us. Get it fixed before it breaks an expensive component and causes you a much higher service bill later.
If your system still doesn't seem to work, hasn't been serviced in a long time, wasn't working correctly at the end of the cooling season last year, or just do not have the time to do this yourself please call a professional like Climate Experts . We will maintain your system once a year minimum and twice a year for best overall performance .
You can save money by signing up with our Preventive Maintenance Agreements which will cover all your systems tune up and filter needs at a lower price.
Plan for your systems needs instead of having unplanned emergency issues at the most inopportune times and paying for expensive repairs or equipment replacements due to neglect.